THE ART TO ENJOY LIFE

Welcome to


Macià Doñana

There are different places. You need to discover them. These small treasures that surprise and leave us marked for life. Places where laughter is an art, being positive is something innate and hospitality is a pride. Enjoy the famous cuisine of Bajo de Guía, the natural wonder of the Doñana National Park, the beaches and sun of Cádiz. At Macià Doñana hotel, simply enjoy.
FACILITIES
94 Rooms and 2 Suites designed in a way so you can feel the surroundings and nature of Doñana in every corner of the hotel. A unique, harmonious and balanced design, where the most important Natural Park in Spain flows into every detail of our rooms.

If Sanlúcar de Barrameda stands out for something, it is for its gastronomy. And to pay homage to one of the best cuisines in Spain, our Macià Doñana hotel has its Ansares Restaurant, a worthy ambassador of Sanlúcar cuisine for its quality and price.

The Macià Doñana also has a large outdoor pool to enjoy the sun of Cádiz without leaving the hotel, as well as a large parking lot so that all our clients have the facility to park their vehicles without any complication.

Hotel Macià Doñana, designed as Art to Enjoy the Life.
IN PERFECT LOCATION
¨Bajo de Guía¨ the best gastronomic area of Sanlúcar is just a minute walk from the hotel. Wonderful beach is just in one step away. You have incredible scenary from your room with incredible panoramic views of Doñana Natural Park. And all this ensures that our hotel is just in Perfect Place.
WEATHER

AIRPORT
30 min
SHOPPING AREA
3 minutes
What our clients say
«One more year we have visited Sanlúcar de Barrameda and as always we have stayed in this wonderful Hotel. In these days of Covid they have increased the cleaning service, which was already very high before. All services, breakfast, pool, rooms etc. They are the best, but what really makes the difference of this Hotel is its staff. Juan Manuel, Victor, Rocío, Pablo and all the rest of the staff are spectacular. They make you feel loved, but they are also great professionals. We hope to return and we would like both the pandemic and its restrictions to be history so that we can give a hug to these friends, such good people. "
Jose Maria G.
5/5
September 2020
«The location is unbeatable, close to the beach and the Bajo Guía. Very friendly staff. I asked to come in at 12 to take advantage of the beach, and given the availability of rooms in September, there was no problem. "
Miguel
9/10
October 2020
«Hotel very well located. Very clean room and very comfortable beds. Very nice staff. Very clean facilities as well. Very complete breakfast. As a constructive criticism, I would say that the beds are only with white sheets if they put some decoration like a nice quilt according to the decoration of the room, they would be more flirtatious. We had a great time. We will return for sure »
Rocio G.
5/5
September 2020
"One of the receptionists (the one in the afternoon) was especially friendly and pleasant. I think it has a wonderful location, especially for those who want to enjoy the beach, although it also has the center within a 15-minute walk. In general it is a very good hotel and we liked everything very much »
Lorena
9/10
October 2020
GRADING AVERAGE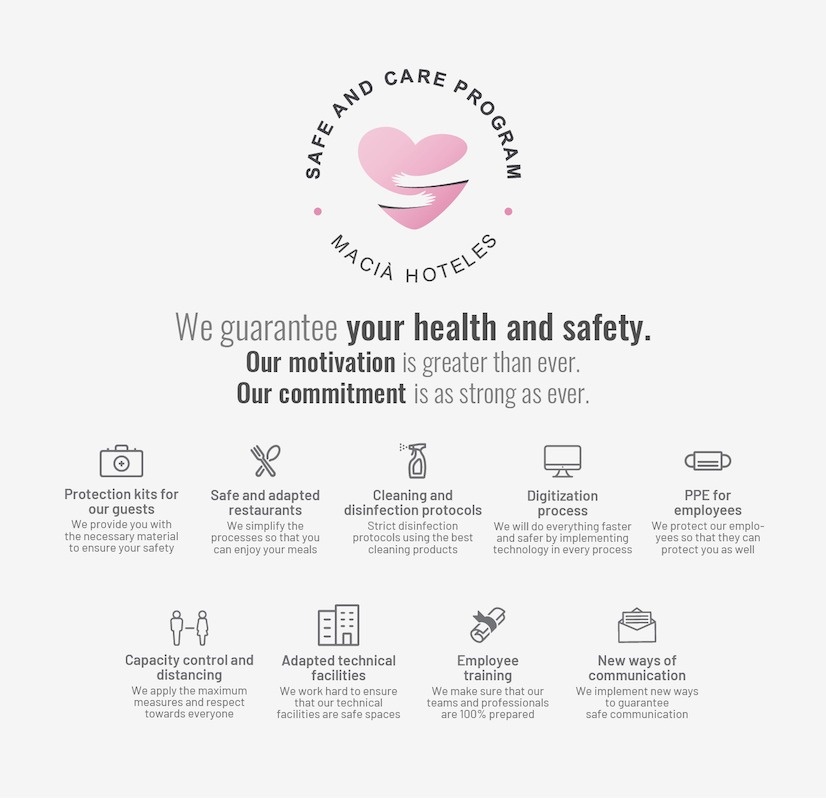 DON´T MISS OUR OFFERS AND PROMOTIONS
Do you want to be trendy? Subscribe to our Newsletter and receive all our offers and promotions.